Mi Band 4 USA Review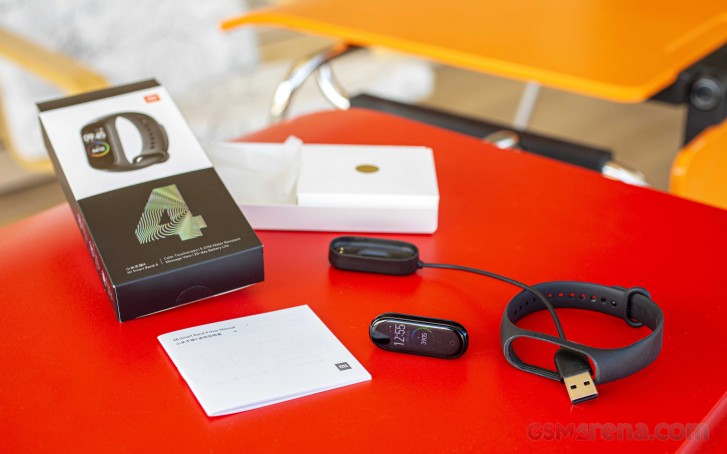 One thing that immediately grabs the attention is the new charger – now the Pogo pins are on the bottom, instead of being hidden in the edge, so you need a new cable for it. It still is with USB on the opposite end, so you can just plug it in a PC and forget about it until it is time to charge the device.
Design
The predecessor Mi Smart Band 4 also had an OLED, but now the diagonal grew from 0.78" to 0.95". Looking at it at a sharp angle you can see the actual display, which is surrounded by a lot of plastic bezels on all sides, but this is rarely an issue in real life. The responsive button is now marked with a tiny white circle, but the whole ensemble did not make the device bigger – the Mi Smart Band 4 fits comfortably in the rubber bands designed for the Mi Band 3.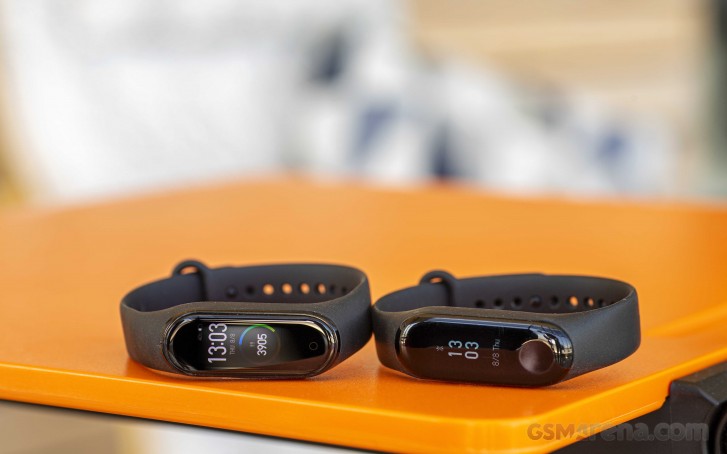 Xiaomi Mi Smart Band 4 vs Xiaomi Mi Band 3
The back is occupied by the regular stuff – heart rate sensor, connector pins and the Mi logo. Bear in mind this is where the Mi Smart Band 4 gathers grime the most, so it is good to clean it with pure alcohol about once a week.
Features and usability
You have the usual heart rate, notifications, weather, sleep tracker and sports tracker. The band supports six different types of workout – Outdoor run, Treadmill, Cycling, Walking, Exercise, and Pool Swimming.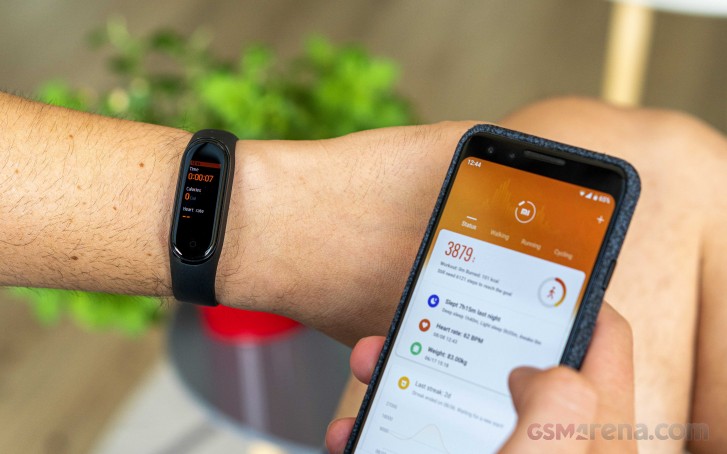 When I connected the band to the Mi Fit app, it immediately transferred all my settings, so I didn't have to bother setting up alarms and notifications all over. The application is redesigned as well, with more colors and graphics, but the key information remains readily available, for which Xiaomi deserves only praise. Speaking about colors and graphics, since the OLED supports all the colors, you can set up a custom home screen, which gives the band a personal touch.
Battery Life
Here is where I was pleasantly surprised. Bringing more power-hungry features while keeping the same footprint isn't the easiest of tasks. Somehow Xiaomi managed to improve the sleep tracker, so when you are sleeping, the device actually preserves the battery life and the Mi Smart Band 4 lives longer between charges.